Race and Swimming (Part Two)
Creative Steps, the Philadelphia day camp that was booted from the suburban Valley (Swim) Club for reasons that were largely racial, has rejected the club's offer to return. Here's the Inky's take on this latest development, leaving out most of the back story (which you can find here):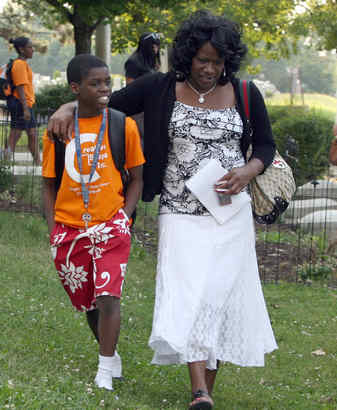 Creative Steps rejects offer to return
By Derrick Nunnally and Zoe Tillman
Inquirer Staff Writers
"Amid a storm of racial controversy, a Philadelphia day camp whose children were asked to leave a private suburban swim club have rejected the club's invitation to return and announced plans to sue.
"'The children are permanently scarred,' Alethea Wright, executive director of Creative Steps Inc., said in a news conference yesterday at the camp's headquarters in the Oxford Circle section.
"She said that she had not returned a text message from Valley Club President John G. Duesler Jr. asking her to call him, and that the camp and dozens of families of campers will file a federal discrimination suit this month.
"Wright, noting that Duesler cited the pool's inability to accommodate the 65 day-campers when he asked them not to return, said she didn't see how the group could go back 'unless additional footage is added.'
"[T]he situation has drawn global publicity, a separate federal discrimination lawsuit, and a civil-rights investigation by the state's Human Relations Commission."At the Creative Steps news conference, [d]ozens of assembled parents unanimously said they had no interest in sending their children back to the Valley Club.
"'I didn't know people hated people so much,' said Sherlene Washington, who added that her 8-year-old grandson had been 'hurt.'
"After the invitation to return went out, attorneys for parents of a group of the day-camp students said a discrimination lawsuit filed last week against the club was on hold.
"That lawsuit's future, attorney Brian Mildenberg said at his South Broad Street office yesterday, depends on 'everybody being pleased.' The club has not yet been served with the suit, but Mildenberg said the parents he represents could still move forward with the case.
"The new lawsuit is to be filed this month, attorneys said. About 45 families, along with the day camp itself, are to be plaintiffs in the discrimination and breach-of-contract case.
"'This has nothing to do with safety,' attorney Gabriel Levin said. 'It has to do with the color of their skin.'
"Before a camp trip to a gymnastics event in Huntingdon Valley yesterday, several of the children who made the June 29 trip to Valley Club's pool expressed little desire to return.
"'I don't want to go back,' Creative Steps camper Jabriel Brown, 12, said yesterday. 'I don't want to get treated the same.'
**********
I find my sympathies shifting.
First, here's a word of warning: Litigation is not something to embrace except as a last resort. Although I've been teaching Tort Law for many years, I didn't realize just how bad litigation could be until I was, to my surprise, involved in two cases of my own within the past few years. Neither of these would I have chosen had other real options existed. Lawsuits are soul-draining, tension-producing, nightmare-reliving, expensive propositions.
Here's a case where a suit can and probably should be avoided. It seems like the Valley Club has, albeit belatedly, realized that its actions were based on ignorance and racism, and have now attempted to make this right. What purpose is Ms. Wright seeking to serve by refusing to talk to Mr. Duesler? I'm hoping that the lawyers will try to work out some accommodation here, whether or not the kids feel comfortable returning to the club (I can certainly see why they wouldn't).
And speaking of the kids….Once again, I see them as pawns. As one commenter on the last post remarked, the white kids were harmed by their parents' hysterical reaction, just as the African-American kids were hurt by the sharp racism they encountered. But are these kids really best served when their parents and adult supervisors decline to engage in dialogue on how to improve the situation, both now and for the future? Maybe years of this kind of awful treatment have sent Ms. Wright the message that only legal steps can fix problems; if so, that message is surely being transmitted intergenerationally. How sad.
Here's a lawyer for the camp:
"'The children's best interests are not being served,' lawyer Carolyn Nichols said. 'Simple lip service does not amount to change.'
"The day care center also wants the resignation of all swim club board members and the removal of any club members who made the racist comments, Nichols said.
"'Our goal is to ensure that this type of behavior never happens again,' she said.
With respect to the injured parties here: Your lawyer isn't doing you any favors. All of her points are shaky:
The offer to return isn't "lip service": it's a concrete and positive step.
Is resignation really the only option here? What about the possibility that people's minds (and hearts?) really have been opened, and that this same Board might act differently next time?
And if you want to prevent a behavior from recurring, a lawsuit in the face of corrective steps might send this message: "Don't bother trying to make things better next time. You'll be sued either way."
How about some real "Creative Steps" — including dialogue and reconciliation?
Categories:
race, swimming pool racism
, Alethea Wright, Creative Steps, dialogue, John Duesler, litigation, racism, reconciliation, swimming, Valley Club